Guidance inside the palace

①An African folkcraft corner
The wood carving, ivory carving goods etc,be satisfied with the African savor.
②CITES . African corner
The introduction of the African elephant and a panel is shown so that we can understand Washington treaty easily.
③Video corner
The origin countries of the African elephant are introduced and the video of the craftwork production are always televised.
④Guidance counter
We will answer any question about the ivory.
⑤Personal computers reference corner about the elephant
By the touch panel, bean knowledge can get easily...
⑥Ivory craftwork exhibition corner
They are displayed abundantly from the historical carving goods to the daily necessities. (Ivory cut-piece, production tools are displayed at the same time, too.)
⑦books corner about the ivory
Books related to the ivory conveyed from the foreign countries and the craft work collection etc,take it in your hand, and enjoy it.
Ivory craftworks
Ivory craftworks are always displayed Enjoy it slowly.
It is transmitted ivory craft has been done in the country from the Nara Period (the eighth century). After that, it was used in the various tools, and it had been respected as excellent craftworks such as the utensils of tea.
In the Edo Period, generally it is used preferably as the daily necessities by the soft touch, and after the Meiji Period, many famous craftsmen are produced with the study of the craft technology, and recognized as the craft work of art worldwide.
NETUKE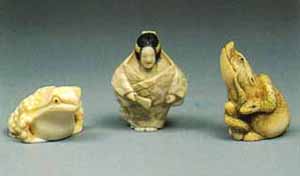 Accessory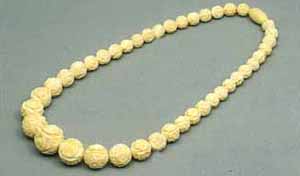 Japanese music instrument utensil